3D Metallic or Plain Finish!
Fibreglass Pools w/Ceramic Coating & Finish Options
MY POOL DIRECT sells and distributes Ceramic Metallic Finish Fibreglass Pools up to 11m x 4m x 1.5m for Immediate delivery throughout Europe.
The Ceramic Metallic Finish looks simply amazing under the spotlights for indoor pools as well as under the sun's rays. It makes them stand out from the competition. You can see the Metallic finish, "sparkle" on our YouTube Channel.
We aim to sell a pool for every back garden in European countries and are confident that you will find something to suit your requirements below. ALL of our Pools are delivered to site with our HI-AB Crane Lift vehicles. Learn more ...

Metallic Finish Fibreglass
Explore various fibreglass pool types, styles, sizes, stair configurations, and colour finish options by CLICKING the options below. Learn everything that you need to know about One-Piece Fibreglass Pools to make a buying decision!





One-Piece Pool Technology
A pool showcased by MY POOL DIRECT is made of high quality resin, fibreglass and a dedicated pool gel coat. Its durability allows customers to install it outside as well as inside the building. Special gel coat used in production is material with high resistance to UV radiation, chemicals and high temperatures. It creates the most important layer of the product that constitutes the quality of the pool.
The additional protection of the gel coat is special vinyl ester barrier coat. It creates durable antiosmosis layer on the pool preventing from micro damages to the surface. The use of high quality materials and process of tempering ensures that the end product meets the highest standards.
Checking the strength of the pool under the pressure of water is the last stage of the gel coat production check. Purchasing a MY POOL DIRECT One-piece Pool you are sure that you get the PREMIUM quality pool. Our company also uses a special strengthening layer at the bottom of a pool called 'honeycomb'.
Each pool is firmly fastened with a metal ring and additionally insulated with 2 cm polyurethane foam.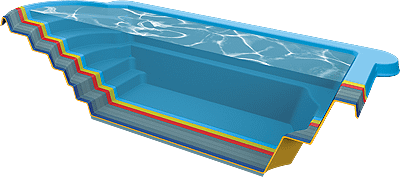 By choosing MY POOL DIRECT One-Piece Swimming Pools you get a guarantee to purchase the highest quality swimming pool confirmed by the world-known certification body TÜV RHEINLAND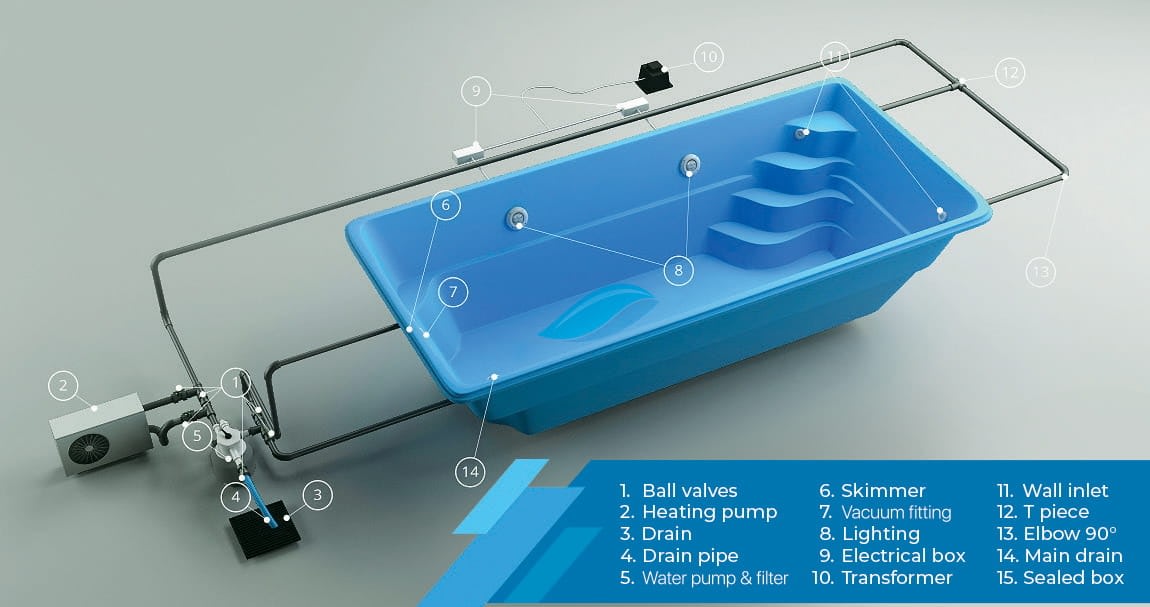 Advanced Filtration System
In your Swimming Pool Delivery you will find a sealed box for the filtration kit. It is a great solution for storing the whole filtration system responsible for the proper pool functioning.
Installing the box gives you numerous benefits: it is soundproof, easy to install, and it takes less space than any other container.
| | Internal dimensions, m | External dimensions, m |
| --- | --- | --- |
| Small | 0.90 x 0.90 x 1.00 | 1.10 x 1.10 x 1.00 |
| Medium | 1.60 x 1.00 x 1.00 | 1.79 x 1.20 x 1.00 |
| Large | 1.70 x 1.20 x 1.00 | 1.90 x 1.40 x 1.00 |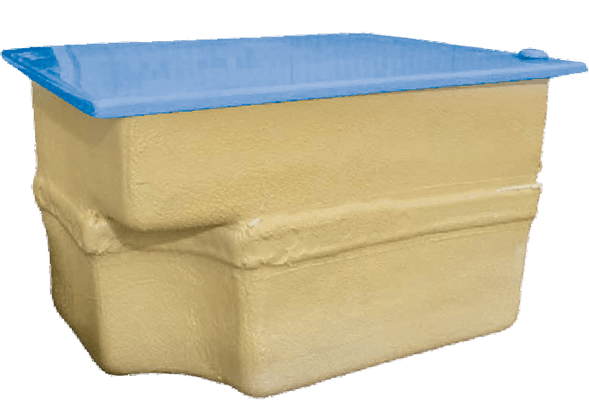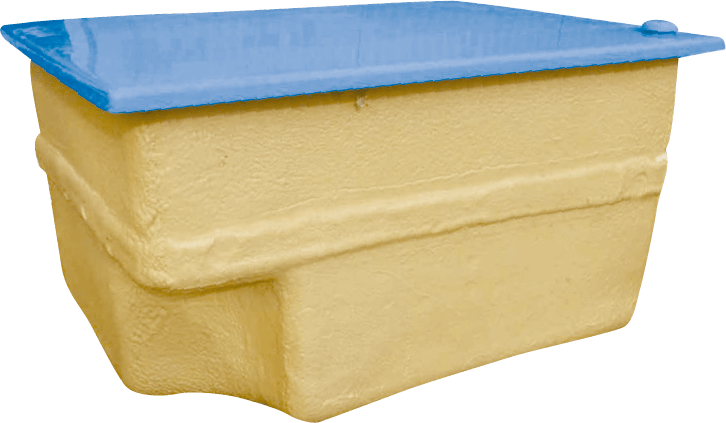 Fibreglass Pool Structure Composition
It is an external (visible to the naked eye) and a more popular layer of the pool. Provides the pool's character!
The second layer of gel coat is applied to additionally make the pool shell (basin) moisture resistant.
Spray barrier layer protects the pool surface against osmosis and bubbles.
It is a vinyl ester resin that has the same task as the coat barrier layer.
It consists of several (depending on the size of the pool) layers of glass mat and resin. This layer is designed to strengthen the entire pan structure.
It is steel placed under the pool frame and on the embossing. Its task is to prevent the walls from bending and additionally strengthen the entire pool shell (basin).
The roving fabric is an additional material strengthening the structure.
Topcoat, also known as flowcoat is the term used for gelcoat which has had wax solution added to allow it to be used as a finish like gelcoat where it is not possible to use a fiberglass mould
The polypropylene honeycomb is non-flammable, has great impact strength as well as high insulation properties in both sound and thermal.
Reinforcements for extra durability